November 29th, 2009 by
Ryan
This part of the Troubleshooting SharePoint Email Alerts guide covers situations where you are getting emails for some users but not for others.
If :-
The users that do/do not get alerts can be separated by email domain
Its intermittent i.e. users will sometimes get email alerts but sometimes not, for the same list/list item.
(Not to be confused with users who always get alerts for some lists/list items, but never for others)
Then the culprit is probably the email infrastructure.

As always the wild card is spam filtering and email rules – so thoroughly discount these first!
Check the People and Groups list for a correct email address.
Check the site collections people and groups list for a correct email address.
Don't assume this is correct and skip this step, yes I know its correct in AD but seriously, don't skip this!
Also be aware that site collections (even in the same web application) are independent and have there own user lists – you may have to check each one.
Site Actions > Site Settings > People and Groups > All People. Find the users and check the email address is correct.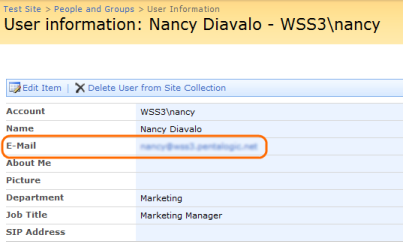 Check the list Permissions
The initial email alert confirmation is sent out regardless of the permissions on the list. Subesquent alert emails are 'security trimmed' i.e. they are only sent out if the users has at least read permissions on the list an the list item that would have triggered the email.
Does the site inherit permissions from the site collection?
Check List Settings >Permissions and Management >Permissions for this list

Does this list inherit permissions from its parent web site?

Go back to List Settings > General Settings > Advanced Settings

Under Item-level permissions are users only allowed to Read their own items?

Go to the list view. Click on an item and select Manage Permissions

Does this list item inherit permissions from its parent list? If not then does the user have permission on this list item?
To verify; check the user in question can open both the list and the item in question from SharePoint.
You can also inspect Central Administration > Operations  Diagnostic Logging for clues such as
"Alertsjob results for *** delivery: 10 prematches, 10 passed filtering, 8 of 10 passed security trimming..."

See Further Reading below.
Further Reading
http://patrickfeltz.spaces.live.com/blog/cns!41A4F8DC87858F8F!197.entry
Tags: Alerts, Troubleshooting
Posted in Troubleshooting Alerts | 4 Comments »
4 Responses to "Troubleshooting SharePoint Alerts – User List and List Permissions"