September 13th, 2009 by alex
SharePoint has a feature called Alert Me that allows you to subscribe to email alerts based on a variety of criteria such as when a SharePoint List item is added, modified or deleted.
They differ from reminders in Outlook which you can schedule, for example to remind you of a Calendar Event or a Task due date, in that you recieve SharePoint alerts based upon a modification of an item in a list rather than on a schedule.
You can either subscribe to be alerted to modifications to every item in a list or to a single item in a list.
Subscribe To An Alert for Every Item in a list
To subscribe to an email alert click on the Actions pull down menu on any SharePoint list and click on the Alert Me menu item
The Alert Me webpage allowing you to configure an email alert will open.
Subscribe to an Alert for one Item in a List
To create an alert for one item on a list you can right click on item and click on the Alert Me menu item.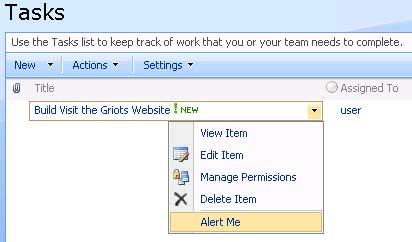 Alternatively if you have clicked on the item and you are currently viewing the item, you can click on the Alert Me link to create an alert for that item.
Configure The Alert
Begin by entering a title for your alert. The title will appear in the subject of the email.

By default your user name will appear in the list of users and groups the alert will be sent to however you have the option to send alerts to other users or groups.

When adding a user or group press enter or click on the check names button which will verify you have entered the correct name.
In the event you have entered an incorrect name, an error message written in red will state that "no exact match was found".

Select People and Groups Webpage Dialog
Alternatively you can click on the browse button  to bring up the Select People and Groups Webpage Dialog which allows you to enter a full or partial name, even as small as one letter, and perform a search to find the person or group you are looking for.
To perform a search enter a name in the Find textbox and click on the search button.

Double click on a user or select multiple users by clicking while holding control or shift and click on the Add-> button at the bottom of the Dialog to add the user(s).
You can find and add as many users or groups as you like and then click OK to return to the Alert Me configuration page.

Refine Your Alert
The remaining selections on the Alert Me page allow you to configure when and why you are to be alerted.
In the Change Type section you can select from 4 different criteria such as to have an email alert on all changes or when existing items are modified.
If you want to have alerts on two different Change Type criteria than you must create a completely new alert after completing the first one.
You can create as many alerts as you want for any given SharePoint list and it is common to create many alerts for a given list to get only the alerts you are needing.

Depending on the type of SharePoint list such as a Calendar or a Task list you have a selection of different possibilities to choose from.
For a Task list you can can configure an alert to be sent with various criteria such as when "Anything changes" in the task or when "A high priority task changes".

With Alerts you can suffer from email overload so there are options to send a daily or weekly summary at a given time of day.

To complete creating your alert press OK at the buttom of the page.
An email will be sent to you account notifying you that your alert has been created.

The Alerts feature has several limitations:
You have limited choice over when the alerts are sent out (immediately, daily, weekly) and you can't do the following:

Setup alerts for only items that meet certain criteria, i.e. High priority open issues or only when a status changes to a certain value.
Alter the text of the email Alert and insert fields from the list into the message.
Enforce alerts – users have to subscribe to themselves (although you can get 3rd party web parts to do this)
Alert users who are not in the SharePoint user database (i.e. users who may just browse the site anonymously or who may not even have access to the site)
Tags: Alert Me, OOTB, Tutorial
Posted in Tricks and Tips | 3 Comments »
3 Responses to "Getting started with SharePoint Alerts"